Shaolin Kungfu Chan Academy in Los Angeles hosted an annual workout event Sunday in Hacienda Heights, a suburban area east of downtown Los Angeles, in celebration of California's Songshan Shaolin Temple Day.
Hundreds of local residents and Chinese Kungfu fans took part in the event at Thomas Burton Park, where a variety of interactive sessions were prepared to allow them to experience Shaolin culture, including Chan meditation, martial arts and more.
"I attend (the) Shaolin Temple Day event every single year," said Jacob Fletcher, a local resident. "Chan philosophy is good for my body and mind. I love it, and want to know more about it."
The gate of Songshan Shaolin Temple in Henan Province, June 13, 2009. /VCG Photo

"We have hosted Songshan Shaolin Temple Day celebrations here for five years in a row," said Shi Yanyue, head of the academy. "The event is widely welcomed in the community. Our goal is to share Chan culture with American people."
In January 2004, the California State Assembly unanimously passed a resolution to designate March 21 as "Songshan Shaolin Temple Day." On March 23, 2009, the California State Senate also passed a similar resolution to set the celebration day in recognition of the 1,500-year-old Shaolin cultural heritage.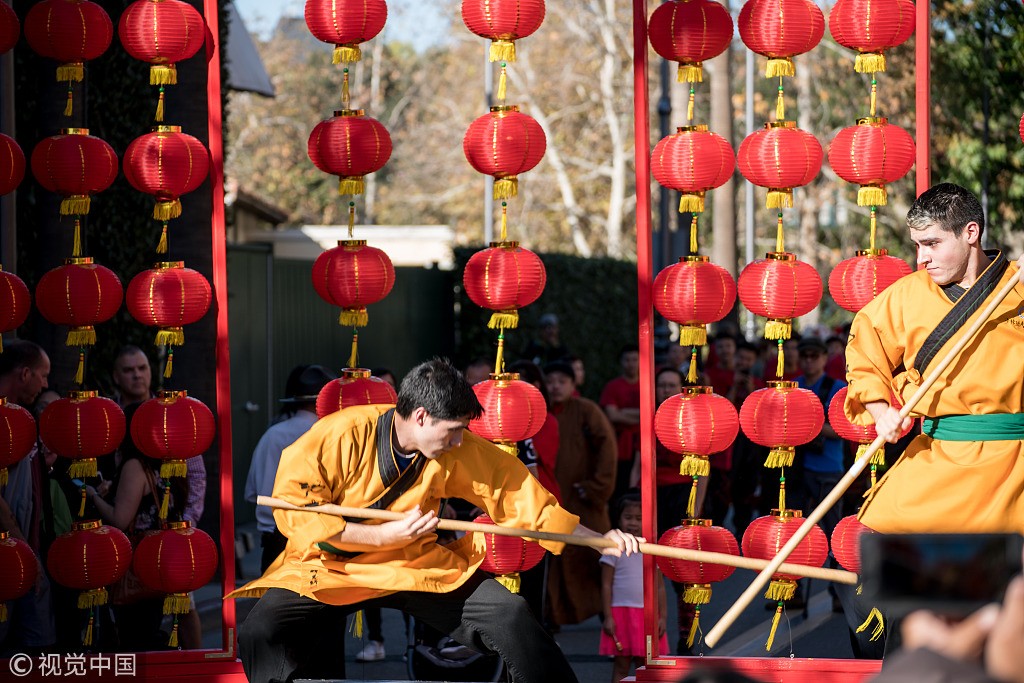 A Shaolin martial arts display at a cultural event held by a shopping mall in Los Angeles, January 28, 2018. /VCG Photo

"Shaolin Kungfu is more than martial arts," proclaimed the Senate resolution. "It is a discipline that helps people achieve better physical and spiritual balance. And the Shaolin teachings enable many Californians to find common ground in our diversity."
Shaolin Temple, a Chan Buddhist temple in Henan Province of China, is famous as an ancestral monastery of the Chan sect, "mecca" of Kungfu and medical practices of Buddhism.
Shaolin Kungfu combines Zen meditations from the Buddhist sect Chanzong (one of the most important branches of Buddhism in China) with martial arts, and it is known for its sharp, powerful and accurate movements and efficient skills in defense and attack.
(Shaolin participants perform at a show in Chania, Greece, August 10, 2018. /VCG Photo)
Source(s): Xinhua News Agency
Source: https://news.cgtn.com/news/3d3d414d334d444e33457a6333566d54/index.html