On October 26, 2018, at 9: 30 am, the champion of the Black VS White Duel Open Tao Hanwen would begin with a dual with the national player Chang Hao for the winner at the Abbot Hall. In the "2018 Shaolin Black VS White Duel Weiqi Open", the opening ceremony of Shaolin Weiqi Institution was held in front of the Abbot Hall. The abbot of the Shaolin Temple the Great Monk Shi Yongxin, former president of the Chinese Weiqi Association Wang Runan, vice president of the Chinese Weiqi Association Changhao, the famous national player Liu Xiaoguang and many Go players attended the opening ceremony.
Shaolin Weiqi Institution is the first Weiqi institution at the ancient monastery of Chan sect or even in the Buddhist circle over 1500 years. In the late Eastern Han Dynasty, Buddhism began to spread into China. Weiqi had become popular in the society at that time. Because of Weiqi full of combativeness, Buddhist rules banned playing chess. Later on, laid bare the fact by Kumarajiva with one penetrating remark, everything in the world treads different paths that lead to the same destination; contacting Weiqi would not affect enlightenment of dharma, but help practice meditation. Then Weiqi began to be accepted by Buddhism. The most famous Weiqi Chan masters included Seng Yixing, Faru, ect. Nowadays, Shaolin Temple inherits the origin of Chan and Weiqi over 1500 years and "Shaolin Weiqi Institution" was unveiled which is all deserved.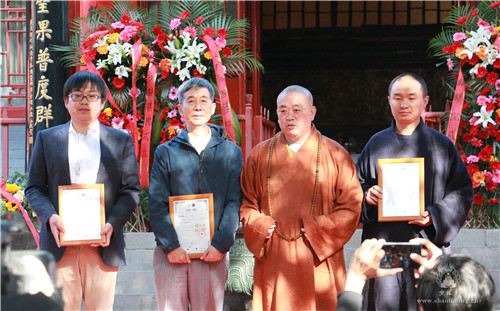 At the opening ceremony, the Great Monk Yongxin addressed that Shaolin Weiqi Institution adheres to carrying forward fine traditional Chinese culture for purpose and the use of Weiqi as a practice way for the enlightenment of Chan, establishing Shaolin Weiqi Institution. Shaolin Weiqi Institution combines Weiqi with Shaolin Chan sect thought, merging their characteristics both of them to create a practice way of "using Weiqi to enlighten Chan", through Weiqi flushing wisdom and practicing being brave. As a new communicative platform, Shaolin Weiqi Institution will bear the mission to showcase Chinese Weiqi culture to the world.
Then the Great Monk Yongxin, Wang Runan, Liu Xiaoguang, etc. stepped on the stage to cut the ribbon and uncover the nameplate. The Great Monk Yongxin appointed Wang Runan as honorary president of Shaolin Weiqi Institution and Master Yanyong as president of Shaolin Weiqi Institution, then taking group photos with delight.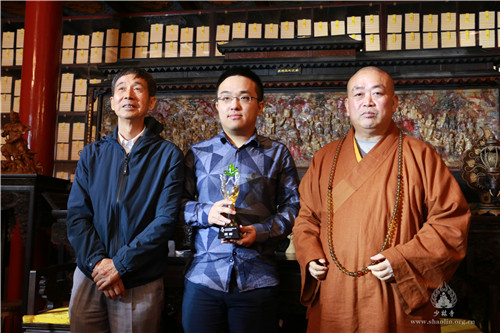 At 10 am, Black VS White Duel Open's champion Tao Hanwen began the battle with the national player Chang Hao at the Abbot Hall. There were also professional players explained Weiqi to people outside the Abbot Hall. Over a two-hour fighting, Chang Hao won half a piece as an end to the competition. At the Abbot Hall, the Great Monk Yongxin issued licenses to top 8 and the first three places as well as the national player Chang Hao, congratulated them and took photos with delight. (Editor: Zou Xiang and Zhang Hailong)